Shop Search
It is possible for you to search for Tully's in the vicinity of your current location. It is also possible to search for Tully's located in close proximity to your destination.
Try Shop Search >
Our Favorite
Coffee of the day

We are using the beans of the world's coffee production area. Every day, it offers from among about 10 different before and after the beans as chosen by the Tully's fellow "Today's coffee".

Short: ¥320 Tall: ¥470

Grande: ¥520

Chocolate Brownie & Walnuts Doughnut

It is donuts with moist dough and kneaded chocolate. Fragrant walnut texture is a great accent.

¥260
Cafe Latte

Is the drink of Tully's recommendation was placed on lightly to form milk poured plenty of steam milk to espresso.

Short: ¥360  Tall: ¥410

Grande: ¥460

Ball Park Hot Dog Original

The crisp and juicy sausage, was a pair of scissors to the fragrant rye bucket. Please enjoy rich deep coffee and espresso together with your.

¥340
Tully's
Brand Story

Tully's Coffee is a specialty coffee shop. We always strive to bring to our customers the highest-quality coffee for their drinking pleasure. As for the taste, we offer the most delicious handmade coffee that will satisfy all coffee lovers in our specialty coffee shops.
We offer a relaxing spacious environment as well as heartfelt hospitality so that our customers can enjoy more fully our highest-quality coffee.
---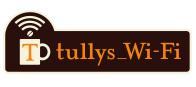 tullys_Wi-Fi
Everyone who has a Wi-Fi device can enjoy Free Wi-Fi in the store.
The setup is easy. It's available at any stores with the "tullys_Wi-Fi" sticker.